Tripawds is a user-supported community. Thank you for your support!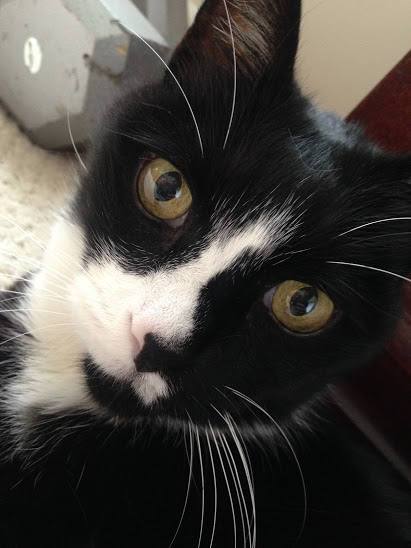 Today, March 30 2019, is Rocky's 1 year ampu-versary and sadly almost 3 months since he passed.  I am so grateful for the support of this group.  I wanted to share a few of the things that worked well for us.  First, a background on Rocky's situation.
In September 2017, Rocky (13 yo Manx cat) developed a lump on his left wrist (it didn't seem to bother him).  The vet thought it might be callous healing from a jumping injury and we monitored it.  But in December it was getting larger and he seemed to favor that paw.  In January 2018 an x-ray was done, then a biopsy, followed by the news that it was soft tissue sarcoma. We were told that this type of cancer would soon spread to his lungs and referred to UGA Veterinary School Oncology.
At the oncology consultation we were advised to amputate the entire left arm to hopefully get clear margins. Even though Rocky was 13, he was healthy in every other way, so a good candidate for the surgery.
On March 30, 2018 Rocky had the surgery, the pathology report came back with clear margins and clear lymph nodes.  Yay!  He recovered amazingly well and mastered life on 3 legs.  He built up great core muscle strength and was in the best shape of his life 😊.
In September 2018 Rocky's lymph nodes dramatically enlarged almost overnight and he began to lose weight and throw up often.  He was put on antibiotics with no effect. Then diagnosed with Lymphoma (likely originating in his stomach/GI tract).  Rocky was put on steroid (Prednisolone), which reduced the lymph size and his appetite returned.  We knew the disease was advanced and chose this route to keep him comfortable.
As a feral kitten, Rocky had joined our family at Christmastime and he honestly loved the season like a little kid.  We didn't know if he would make it to Christmas, so we put up the tree in early-November. He was so excited about it and enjoyed all the smells of Christmas. Rocky did make it to Christmas but was clearly declining.
Rocky was very social and always wanted to be by our side.  His will to live was strong, he pushed thru every day to be in the same room with us. January 10, 2019 was his last day and he laid next to me for the entire day.  The whole family was with him at the end when our vet came to the house to help him pass over.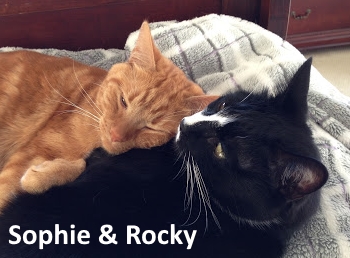 Rocky's sister, Sophie, was aware that Rocky was sick, and we let her see his body before we buried him.  As expected, Sophie grieved the loss of Rocky as she had been with him her entire life.  She now has a little brother that she "tolerates" and is beginning to play with.  Sophie clearly still misses Rocky but she does love being "Alpha cat" now.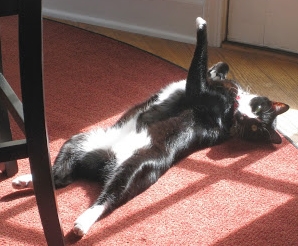 I miss his loud purr; the strongest head bunting; wet nose kisses; seeing him sleep on his back in the sun; his "pawing" on the ottoman; how he jump at the open door frame and slid down it fireman style; his dimply nose; waking me up at 3:00 in the morning just to purr and cuddle…. and so much more.
Here is a list of what worked for us:
Prior to surgery (for about 3 weeks):

We started cutting back on calories to lose a few pounds.
Started core exercises, meerkat pose.
Raised his food and water bowls (about 4").
Prepared a handicapped litter box by cutting 2 doorways (for an easy exit without turning around)
We used NaturVet Quiet Moments Calming Room spray in his carrier to the vet and continued to use it daily in his sleeping places.

When Rocky came home from surgery:

We had blocked off access to any "hide away" places where we couldn't reach him.
Set up a covered puppy pen sleeping area, but he hated that and resumed his place in our bed the second night.
Rocky wore a modified baby onesie to cover the incision, and a Kong inflatable collar (instead of the cone of shame).
We gave Gabapentin for phantom pain, which we used sparingly as it caused his rear legs to wobble.
Used pet stairs for access to the bed (I recommend deep and shallow steps).
We used a Farablock blanket on the bed where Rocky liked to sleep (he and Sophie both like this).
We secured access to any high places to prevent jumping down. Rocky was a counter surfer when we weren't home so all high stools in the breakfast room were laid on their side when not being used.

Ongoing supplements:

Rocky was prone to Struvite crystals, so we kept him on his Royal Canin medicated diet, with the addition of goat's milk and probiotics.
Used a cat water fountain to encourage hydration.
Used AnimalEO essential oils for immune system: Kitty Boost diffused at night and Litteroma applied via the litterbox technique. (Research before using essential oils with pets, these blends were recommended by our vet).
Used Holistic Hounds CBD Oil
Used Buphenorphine for pain in the later stage.